PDSA lottery review
The People's Dispensary for Sick Animals (PDSA) is a British veterinary charity that dates back to 1917, when Maria Dickin established it with the intent of offering medical attention to underprivileged and ailing animals. They are the leading veterinary charity in the United Kingdom, conducting over a million cost-free veterinary consultations annually.
With a vast network encompassing 48 Pet Hospitals and 380 Pet Practices, they care for approximately 470,000 pets while providing invaluable support to more than 300,000 pet owners annually. Beyond their pivotal role in pet healthcare, the PDSA serves as a leading authority on various facets of pet welfare. This includes spearheading discussions on topics like pet obesity, orchestrating the largest annual survey on pet well-being in Britain, and actively advocating for the rights and recognition of animals.
How to enter the PDSA lottery
For just £1 per week, you'll be assigned an exclusive 6-digit lottery number, yours for the entirety of your membership. To enter, you can conveniently secure your entries through a recurring monthly Direct Debit of £4.34 per number, allowing for a maximum of 10 numbers per draw. This extra 34p accommodates the occasional fifth week in months and ensures you're always in the game. Every Friday, the External Lottery Manager (ELM) conducts the lottery draw, and all winners will receive prize notifications by mail, with winnings dispatched automatically.
PDSA lottery Prize draw
The top prize in the PDSA weekly lottery stands at £1,000. There are 49 cash prizes to be won in addition to this: 47 runner-up prizes of £10, plus a third prize of £100, a second prize of £250. Draws take place every Friday. If nobody wins the weekly draw then £250 is added to the prize pot and the money rolls over to the next week. This can theoretically carry on until the jackpot reaches £10,000, after which the rollover stops and the prize money is guaranteed to be won in the next draw.
If you've won, you will be notified by post. Your prize money will be transferred to you immediately after the draw, so there's no need to get back in touch with anyone at PDSA to follow up on this.
Odds
According to the results of all the PDSA's Weekly Lottery draws in 2022, the chances of winning a prize stand at 1 in 581.
How much does the PDSA make from entries
In 2022, PDSAs Weekly Lottery generated total proceeds of £1,509,658. Of this amount, 86% was allocated to supporting sick animals, 6% was dedicated to prizes, and 8% was used for covering various expenses.
PDSA's Impact
In 2021, PDSA, supported by generous contributions from lottery players, made a significant impact by funding essential medications for pets in need. This support included treatment for chronic heart conditions, benefiting 9,055 pet patients, as well as providing life-saving insulin and administration tools for 2,225 diabetic patients. PDSA's veterinary team, aided by the funding, extended crucial assistance to pet owners, offering guidance on administering insulin and caring for their diabetic pets.
The PDSA Pet Health Hub, has thrived as a valuable resource for pet owners, attracting over 7.7 million visitors. During the pandemic, this online platform was essential, offering reliable information and advice to worried pet owners amid limited access to in-person veterinary care. The Hub also responded quickly to new issues, for example panleucopenia in cats, by providing accessible, trustworthy guidance.
In 2021, they expanded their remote learning initiatives which allowed clinical teams to adapt to the challenges posed by the pandemic. The in-house training programs, designed and delivered by PDSA's experienced vets, yielded impressive results, with 92% of newly graduated vets citing a positive impact on patient care and treatment. As they continue to integrate these resources into their wider website, PDSA remains dedicated to enhancing pet well-being and supporting their invaluable work across the 48 Pet Hospitals.
Read more about PDSA's Impact
PDSA Real Life Stories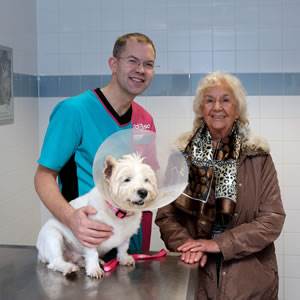 Max, a 12-year-old West Highland Terrier, faced a life-threatening situation during his visit to PDSA for surgery to remove a cancerous tumour. As the veterinary team prepared for the operation, Max's heart suddenly stopped, putting him in cardiac arrest. The veterinary team faced a race against time, administering crucial aid to help Max breathe and performed CPR in their efforts to revive his heart. It took five minutes of resuscitation, but the team ultimately succeeded in restarting Max's heart. With his condition stabilised, a significant decision loomed.
The veterinary team told Max's owner, who received the shocking news of her beloved companion's cardiac arrest. Faced with a difficult choice, she realised that without the planned surgery to remove the cancerous tumour, Max's life was still in jeopardy. She opted for Max to undergo the essential, life-saving surgery, understanding the gravity of the situation.
The PDSA veterinarians and nurses embarked on the operation, with the utmost care and vigilance in tending to Max's well-being.
Max's operation was successful, and he made a full recovery.
"Max is my only companion and means everything to me. When they told me he had made it through the operation, it was like a miracle. I can never thank PDSA enough."
– Max's owner
Read more PDSA's real life stories
Our Verdict on PDSA UK lottery
PDSA weekly lottery offers is a simple, yet impactful means to assist sick and injured animals. By joining, you contribute to the charity's mission of providing accessible and affordable services for individuals who may otherwise struggle to afford veterinary care for their beloved pets.
It's important to note that PDSA operates its lottery under the authorisation of the Gambling Commission, ensuring a fair and secure experience for all participants. Your involvement in the lottery is a helpful way to support this wonderful charity.
For other lotteries check out our handy guide and be sure to look at our list of best new bingo sites.
Our Guides
We're here to help you compare from hundreds of bingo sites, but how exactly do you do that? We've shared our expert knowledge and created handy guides with top tips, advice and more so that you're in the know and playing safe.