Oxfam lottery review
Oxfam is a confederation of 21 independent charitable organisations founded in 1942, focused on ending global poverty and led by Oxfam International. The organisation was established in 1942 as the Oxford Committee for Famine Relief, by a group of Quakers, social activists, and Oxford academics. Their initial goal was to aid famine-stricken people in occupied Greece due to the Axis occupation and Allied naval blockades. Oxfam's first paid employee, Joe Mitty, started working at their shop in Oxford in 1949, pioneering the practice of selling donated items. Under the guidance of advertising adviser Harold Sumption, innovative fundraising techniques were developed, making Oxfam one of the UK's largest charities by the 1960s. In 1963, the first overseas committee was established in Canada, and in 1965, the organisation adopted the name OXFAM. Oxfam International was created in 1995 by several independent non-governmental organisations, with its foundation registered in the Netherlands in 1996.
How to enter the Oxfam lottery
The Oxfam Lottery is affiliated with The People's Postcode Lottery, which operates as a subscription-based lottery. This lottery supports various charities, Oxfam being one of them. Instead of choosing a specific number, this lottery draws winners based on postcodes. If your postcode matches the one selected, you become a winner.
Taking part in The People's Postcode Lottery, is easy. Subscription costs £12 per month, and automatically enters you into every draw, each offering daily prizes. The best part is that all you need is your postcode to play, and you can choose to play individually or alongside your neighbours. If you're lucky enough to win, the lottery contacts you directly, ensuring you never miss out on your prize. Signing up is a quick two-minute process, and you have the flexibility to cancel at any time.
Oxfam Prize draw
The People's Postcode Lottery, offers a ton of exciting prizes. For example the December 2023 draw has an impressive £17.3 million jackpot shared by one lucky postcode area.
Saturdays offer the chance for one lucky postcode to win £1 million. Whilst on Sundays, every winning ticket in one postcode, with each receiving £30,000.
During the week from Monday to Friday, there are daily opportunities for £1,000 prizes to be won, with every ticket in 20 different postcodes getting a chance to win. This lottery offers a diverse range of prizes and plenty of winning potential for participants.
An 82% of players won prizes in 2022, and with 70% of postcodes in Great Britain taking part.
How much does the Oxfam lottery raise for charity?
At least 54% of money generated from ticket sales goes towards funding Oxfam's charitable efforts. In the 2019/20 financial year, out of the £825,694 generated from the Oxfam lottery, 84.5% went towards the charity's efforts fighting global poverty, whilst 10.3% funded the prizes and 5.2% covered expenses.
Odds
Considering there are approximately 1,080,000 postcodes entered into every draw and the odds of winning stand at roughly 1 in 135,000, our assessment of the Postcode Lottery suggests that it's a reasonably favourable lottery option.
How much does Oxfam make from entries
The People's Postcode Lottery administers lotteries for 20 Postcode Trusts, where participants select their postcodes for opportunities to win monetary prizes. A minimum of 33% from each subscription is allocated to support charitable organisations and worthwhile causes in the United Kingdom and globally
Subscription contributes to supporting numerous charities both in Great Britain and beyond. Players of the People's Postcode Lottery have collectively raised over £1 billion for various good causes, so you can enjoy the thrill of winning while making a positive impact
Oxfam's + The People's Postcode Lottery Impact
The players of People's Postcode Lottery have helped to transform global change, a need that has grown increasingly urgent. Projections indicate that by 2030, an estimated 80% of individuals in extreme poverty will reside in the most precarious regions on Earth. These challenging living conditions, often stemming from political decisions, render people highly susceptible to various threats, including extreme weather, diseases, hunger, and displacement.
Women and girls have unique challenges that are frequently overlooked. However, thanks to the support of players, substantial changes are underway. Progress has been achieved in debt relief for developing nations, releasing resources for healthcare and social services. Collaborating with partners, Oxfam is advocating for equitable and cost-effective distribution of Covid-19 vaccines to ensure that the most impoverished nations do not face exclusion. Initiatives like the "People's Vaccine" and debt cancellation for struggling developing countries are vital. The link between climate change and humanitarian crises is increasingly evident. The speed with which the world confronts and recovers from these challenges depends on how effectively  global inequalities are addressed such as those exposed by the Covid-19 pandemic.
Both in the UK and globally, Oxfam has called for fair compensation of caregivers, who are predominantly women. Since its establishment in 1942, Oxfam has consistently addressed the root causes of poverty while providing support to individuals in times of disaster. These principles remain pertinent today, but the evolving landscape, characterised by global issues such as the Covid-19 pandemic and the climate crisis, necessitates ongoing adaptation to address the challenges and opportunities of the contemporary world.
Oxfam Real Life Stories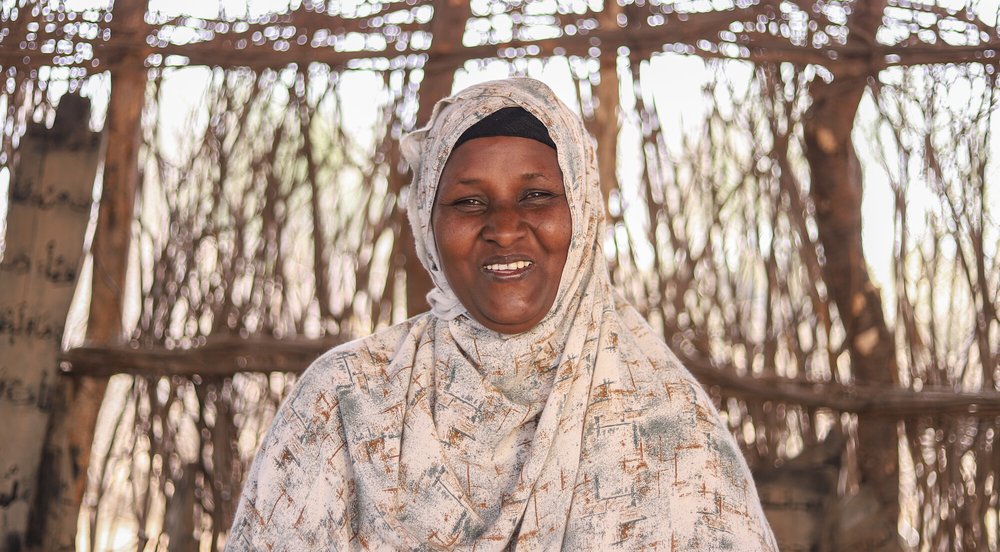 Abdia resides in Isiolo County, Kenya, where she works as a farmer. Her home is one of over 1,000 households that Oxfam has collaborated with through its partners, the ASAL Humanitarian Network and the Merti Integrated Development Programme (MID-P), in the region.
Abdia's community had been suffering during a drought, with limited access to clean water, what little water there was needed to be rationed. With their wells drying up, Abdia's livestock died, and daily life was marked by scarcity.
Oxfam, in collaboration with MID-PI, launched an emergency drought response project, which involved repairing water wells and setting up proper water infrastructure in Abdia's area. They also provided water treatment chemicals and storage tanks, ensuring clean water for over a week and eliminating concerns about water safety. This transformation allowed Abdia and her family to enjoy clean drinking and cooking water without affecting their health.
The project also contributed to girls' education by supplying reusable sanitary towels and basins. Abdia's daughter, who had previously struggled during her period, was able to attend school comfortably.
The impact of this work extended to the entire community, relieving them of the 30-kilometre trek for contaminated water. Abdia and her family regained access to clean and usable water, greatly improving their quality of life. Climate change-induced drought had posed severe challenges, but Oxfam's intervention brought relief and hope to Abdia and her community in Isiolo County, Kenya.
Our Verdict on Oxfam and the The People's Postcode Lottery
People chose to play the People's Postcode Lottery for a variety reasons. By playing, people not only get to support 20 charitable causes but are also in with the chance of winning cash prizes, ranging from daily rewards to larger monthly jackpots.
The lottery has a community-based approach which encourages neighbours and communities to come together, fostering a sense of community. It is easy to start playing and, there isn't any need to select specific numbers.
The lottery promotes responsible gambling practices and is regulated by the  Gambling Commission.
For other lotteries check out our handy guide and be sure to look at our list of best new bingo sites
Our Guides
We're here to help you compare from hundreds of bingo sites, but how exactly do you do that? We've shared our expert knowledge and created handy guides with top tips, advice and more so that you're in the know and playing safe.