Asthma + Lung UK lottery review
The Asthma Research Council, was founded in 1927. Early contributions received by the council were used to establish specialised asthma clinics at Guy's Hospital and Great Ormond Street Hospital. By 1989, the organisation transformed into the National Asthma Campaign, reflecting the increasing significance of supporting individuals with asthma. In 2004, recognising the evolving role of asthma support, it rebranded as Asthma UK. In 2020, Asthma UK merged with the British Lung Foundation, forming the Asthma UK and British Lung Foundation Partnership.
How to enter the Asthma + Lung UK lottery
It's easy to play Asthma + Lung UK lottery, simply select how many weekly entries you want to play, each entry costs £1, which is standard for a charity lottery. You can choose up to 5 entries, and once you've made your selections, simply provide your personal and banking information to set up a direct debit. Following this, you'll receive confirmation of your entry along with a welcome leaflet by mail.
Upon joining, you'll be assigned your unique 6-digit lottery number(s). Every Friday, a random 6-digit winning sequence is generated, and you can check the results on the website. If you match at least 3 of your numbers in the correct sequence, you're a winner. Prizes are automatically sent to you, so there's no need to go through a claiming process.
Asthma + Lung UK lottery Prize draw
The £1 entry fee gives you a chance to win one of several weekly prizes. The 1st prize of £25,000  is awarded for matching all 6 digits, the 2nd prize is £1,000 for matching 5 digits. If you match 4 digits, you'll receive the 3rd prize of £25, and for matching 3 digits, you'll receive 5 prize entries into the next draw.
Odds
There is no information about odds on the Asthma + Lung UK website.
How much Asthma + Lung UK lottery make from entries
In 2021, Asthma + Lung UK raised an impressive £189,287.50 through the Asthma UK Lottery, receiving 62p from each entry.
Asthma + Lung UK's Impact
In 2022, Asthma+ Lung UK made a significant impact in a range of areas:
Support: Their Helpline assisted over 34,000 people in managing their conditions, while WhatsApp messaging supported another 7,000. Their web community connected over 18,500 asthma and 50,000 lung condition sufferers. Their website served 15 million people with health advice, and they aided over 500 individuals through support groups, combatting loneliness.
Research: Over the last 40 years, Asthma + Lung UK invested £100m in research, aiding over 1000 projects. Their work has improved treatments for pneumonia, COPD, and asthma, especially for severe asthma. Their contribution to COVID-19 research, enhanced testing and vaccination strategies.
Campaigning: Advocacy work has led to significant changes, including laws permitting emergency inhaler access in schools and smoking bans in cars with children. Asthma + Lung UK pushed for life-changing asthma drugs and cleaner air targets. They continue to campaign for early diagnosis and treatments for lung conditions.
Read more about the Impact of Asthma + Lung UK
Asthma + Lung UK's Real Life Stores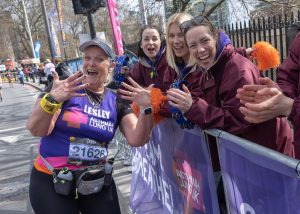 Lesley, is a devoted supporter of Asthma + Lung UK. In 2016, she embarked on her fitness journey and discovered her passion for running. Lesley's started with a parkrun near her home, and focussing on reaching the finish line rather than achieving the fastest time.
Her favourite run is the London Landmarks Half Marathon, and she was thrilled to be accepted to run for Asthma + Lung UK in 2023. Lesley's decision to support the charity is also tied to her father's struggle with COPD and asthma. Recognising the importance of research and information for people with lung conditions, she highlighted the charity's personal support, including well-wishing cards, thank-you letters, and cheering stations that make a significant impact.
Lesley commended Asthma + Lung UK for their contributions to her father's well-being and for providing opportunities to engage in remarkable activities like the London Landmarks Half Marathon.
Read more of Asthma + Lung UK's Real Life Stories
Our Verdict on Asthma + Lung UK lottery
Playing Asthma + Lung UK weekly lottery offers more than just funding research for asthma; it also contributes to raising awareness about the condition. A significant portion of your money, of the proceeds from ticket sales, directly supports Asthma + Lung UK's charitable initiatives.
The Asthma + Lung UK lottery is dedicated to promoting responsible gambling and operates under the license of the  Gambling Commission, a regulatory authority renowned for its stringent safety and security standards. This means you can participate in the lottery with confidence, knowing that safety and security measures are well in place.
.
Our Guides
We're here to help you compare from hundreds of bingo sites, but how exactly do you do that? We've shared our expert knowledge and created handy guides with top tips, advice and more so that you're in the know and playing safe.